Canada by train - notes and tips
7 minute read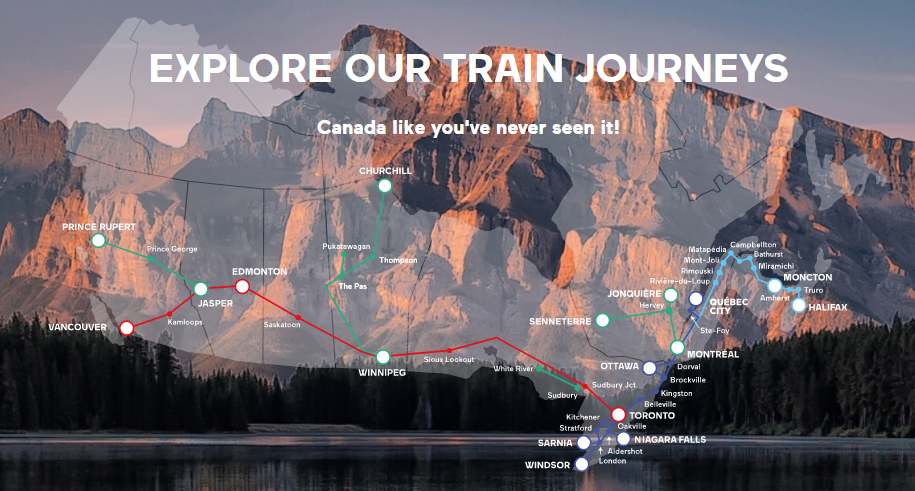 VIA Rail Map, taken from VIA Rail website
So, I've blogged quite a bit about my adventures in different parts of Canada. In this blog, I would like to talk about the train experience itself, and maybe also give some useful tips and info about VIA Rail trains. Originally, I was hoping to finish this blog series before summer 2020 – a lot of my friends were asking about travelling through Canada by train – and summer is typically the season to travel. However, with COVID-19 and its consequences, it wasn't really possible to travel this past summer, so I procrastinated allowed myself some slack to post this blog much later.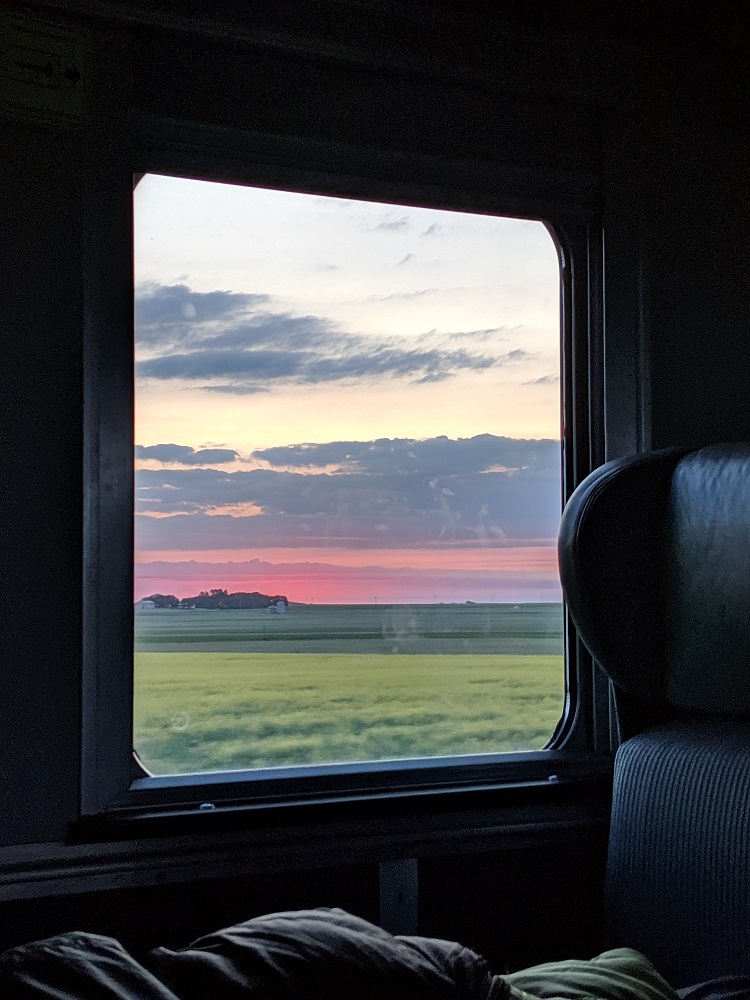 Sunrise somewhere in the Canadian prairies
VIA Rail passes may differ from year to year. For summer 2019, we used youth summer passes which allowed unlimited train travel for 60 consecutive days in economy class. The pass cost $599 but we were lucky to purchase it on a Black Friday for just $359.40! (Both prices are pre-tax.) At the time of purchase, I wasn't really sure about my plans for the summer but I bought the pass anyways – if I couldn't have made it I could refund the pass, less a $50 service fee. To be eligible, you need to be between 12 and 25 years old, or 26+ with a student identity (ISIC) card. Though to be honest, no one ever checked our age or even our identities. Having printed out tickets seemed enough.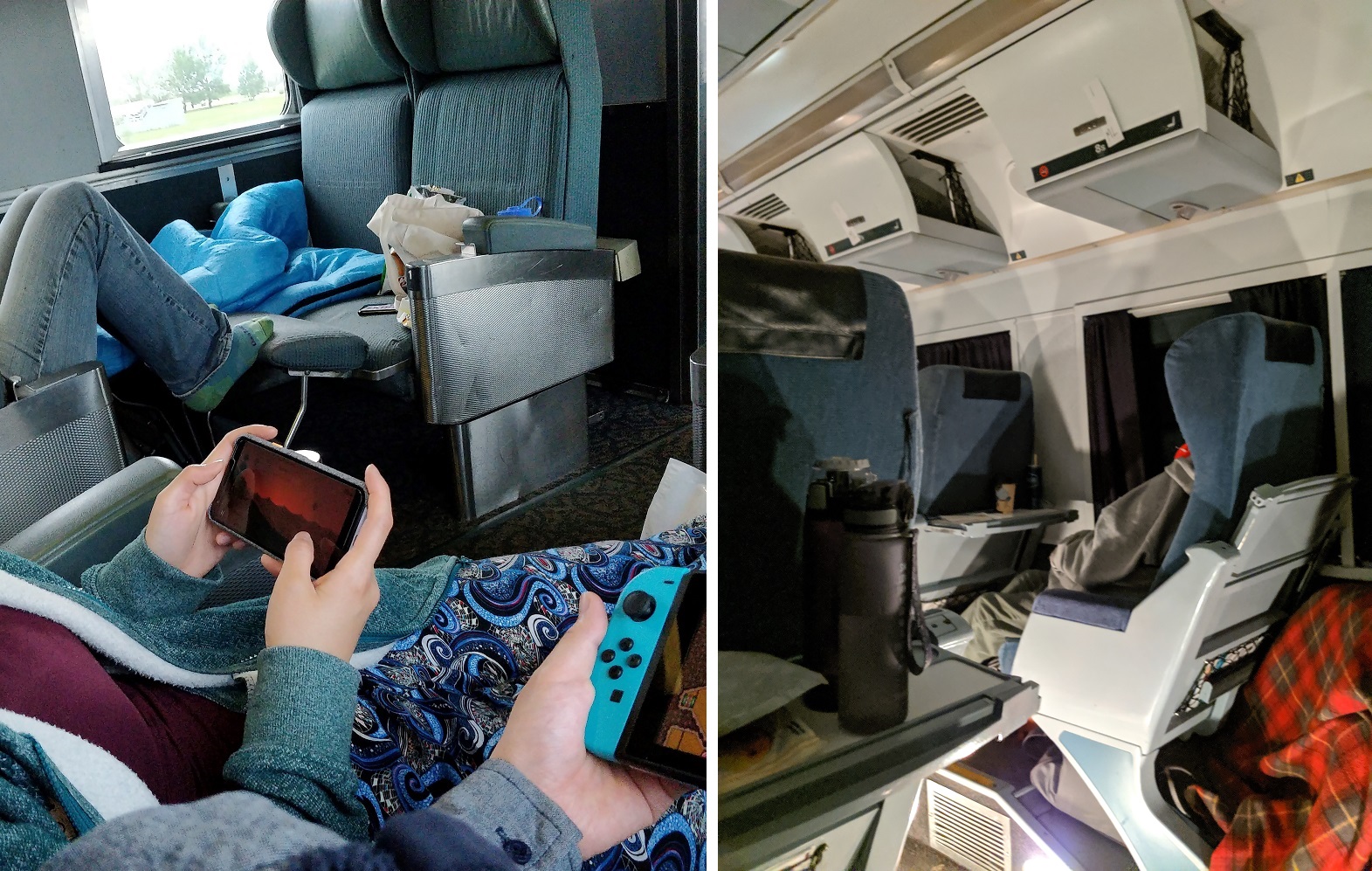 Surprisingly, I don't have any good pictures from inside the trains…
Left photo is of an older train (we had a four-seater for the two of us), right is a newer train.
The trains on the stretch from Vancouver to Toronto and from Toronto to Halifax were significantly different. Now, about the Vancouver-Toronto trains. They seemed older, and don't fall into the advertizing trap – they do not have wifi (wifi is only available between Windsor and Quebec City). A nice thing about these older trains though was that they were significantly emptier, so most of the time a single person could occupy two seats. That was much appreciated during the night – although two seats still couldn't make a comfortable bed, it was way better than sleeping in a single seat. There are more expensive sleeper cars with full beds but our summer passes only let us take the cheapest class. There is also a dome car that you can go to and enjoy a panoramic view of the outside. There are only two trains a week (each way), so you'd better plan your trip in advance.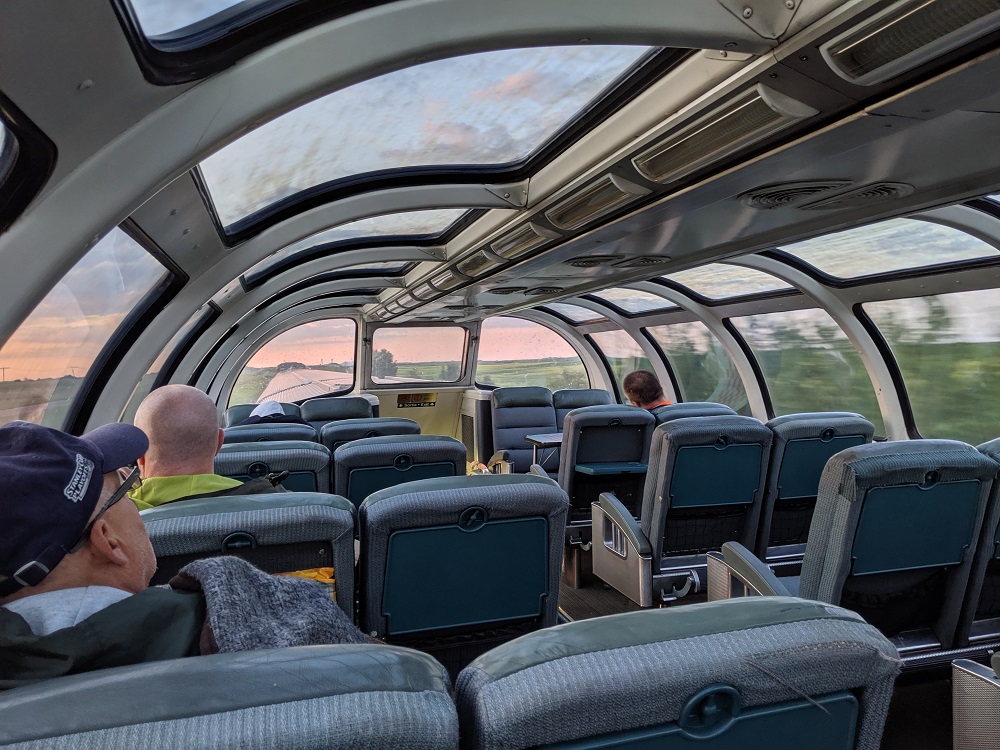 Dome car with panoramic views
Another difference is that Vancouver-Toronto trains didn't really stick to schedule as diligently as Toronto-Halifax trains. When we were going from Jasper to Edmonton our train was delayed for 6 hours due to storms and maybe cargo trains which have priority. I think this delay is definitely on the extreme side but it was funny to me how in Jasper, the delay was measured in hours (Whoops! Another two hours! And another! And another…) while the driver of the Toronto-Ottawa train was very sincerely apologizing for only a 10 minute delay.
All trains that we took on the stretch from Toronto to Halifax were newer, more densely packed, and on time. The trains between Windsor and Quebec City had wifi. Both "old" and "new" trains had a restaurant car. The former had hot drinking water freely available (as well as some free condiments like salt, pepper, and jam), while in the newer trains, you'd have to line up and ask the person at the counter for hot water.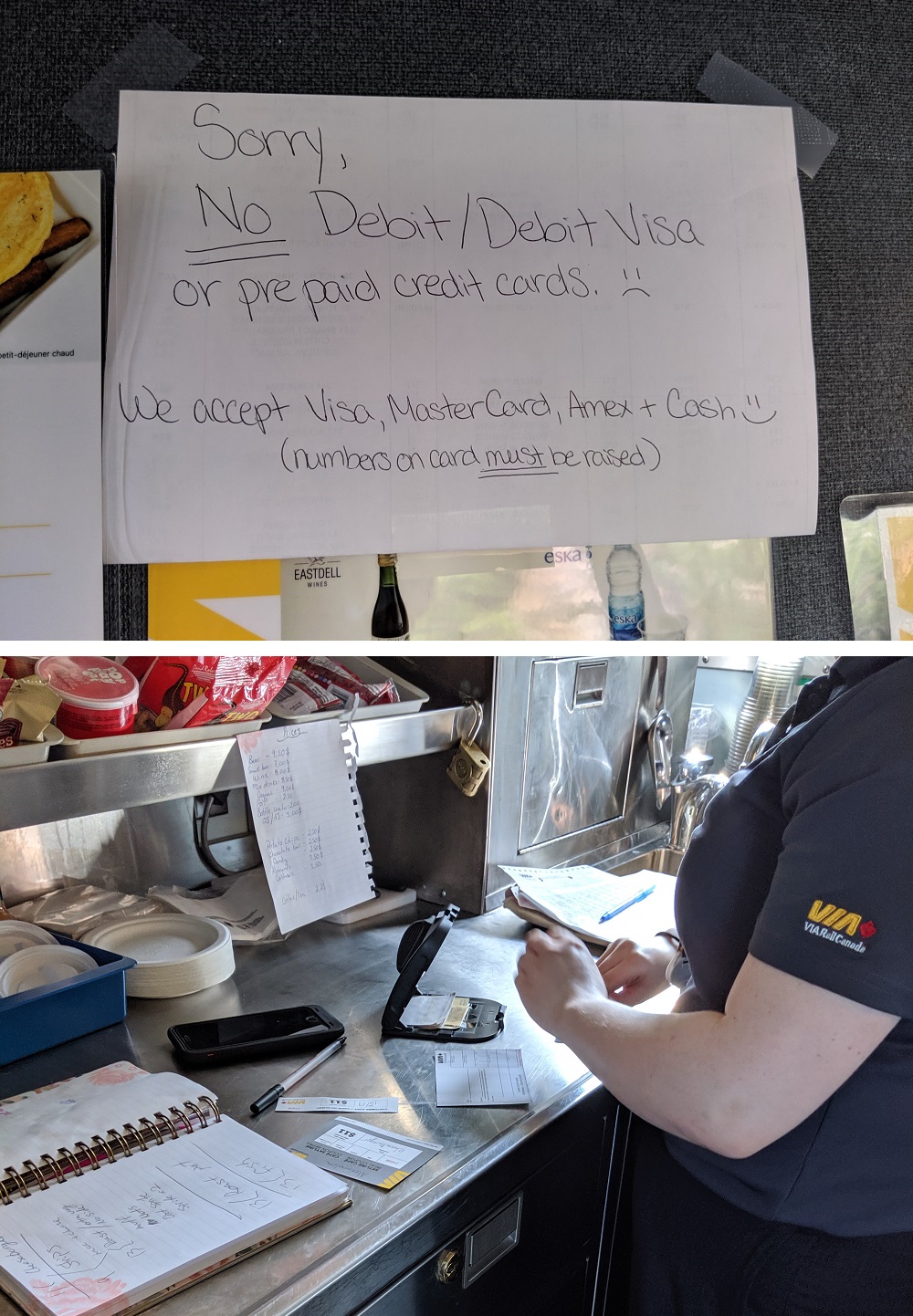 "Advanced" payment system
If you are going to buy food on the train, be sure to bring cash or a credit card with embossed text. They only accept those particular credit cards because the payment system is… peculiar? The bottom left picture shows how it works. See that wide-stapler-looking thing on the table? Basically, they put your credit card in there, slap the thing, and it copies your (embossed) credit card info to a sheet of paper. Then they put down the price on the same sheet, get your signature, and give you a copy. I believe you get billed once the train arrives in the city. Ah… it reminds me of my childhood when I would spend hours playing with carbon paper, copying different characters from drawing books and comics.
So anyways… food. Talking about food, definitely bring some (especially if you are on a budget as we were)! The food on the train was just average and while not that expensive, it wasn't cheap either ($11-13 per meal). Drinking water and hot water are both available, so why not bring some snacks and instant food to enjoy? When we were in Kamloops, we met a guy who was going to Toronto or even further, and he boarded with bags full of instant noodles. But you don't have to depend solely on instant ramen for sustenance! We brought instant noods, instant oatmeal, instant miso soup, tea, coffee, fruits, and different snacks. And here's a lifehack for you. Get some Backpacker's Pantry food packs at MEC. Craving pad thai? Pasta? Curry and rice? Oh man, those were so good, especially after eating the same instant ramen a few times in a row.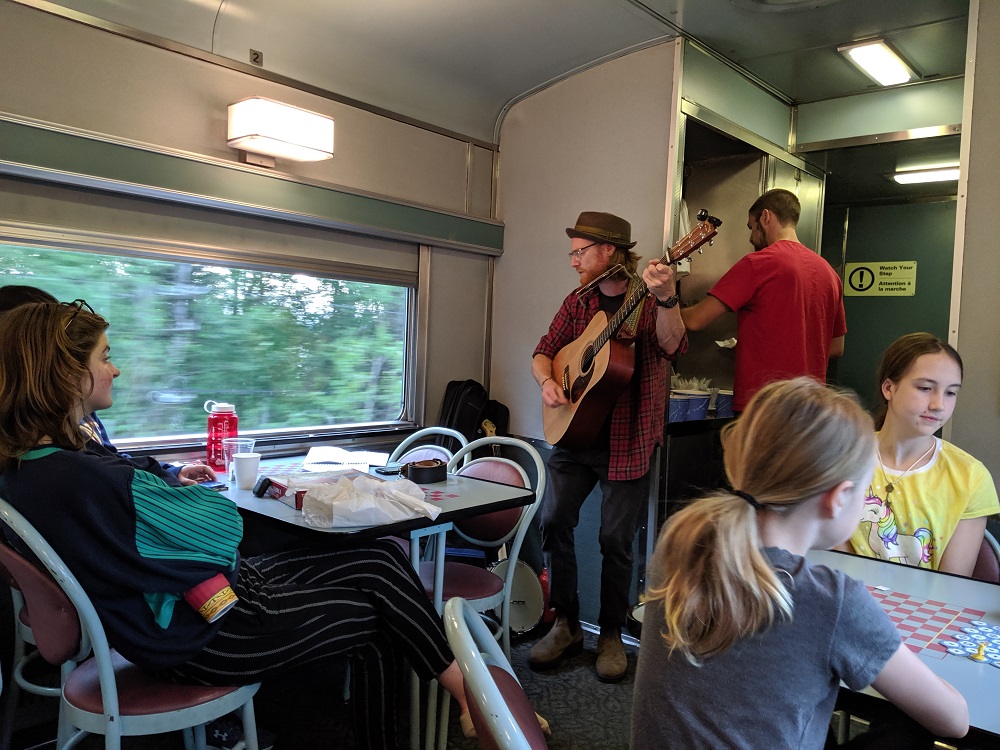 Inside a restaurant car. Pictured: a musician performing, an audience, a guy helping himself to hot water or condiments, children playing a boardgame.
This is probably obvious, but be sure to bring plenty of entertainment. While on the train, I read ebooks, listened to music and an audiobook, played phone games, did a bit of coding and editing for this website, wrote some blog drafts, watched Stranger Things 3, some of Black Mirror 4 and 5, and rewatched some of the OG Avatar series. The trains (at least the old ones) also had some basic tabletop games to play. Few were available at the time when we wanted to try some, so we ended up assembling a jigsaw puzzle. If you are lucky you may see some artists perform! Apparently, VIA Rail has "Artists on board" program which offers complimentary or reduced fare travel to professional musicians if they perform on board.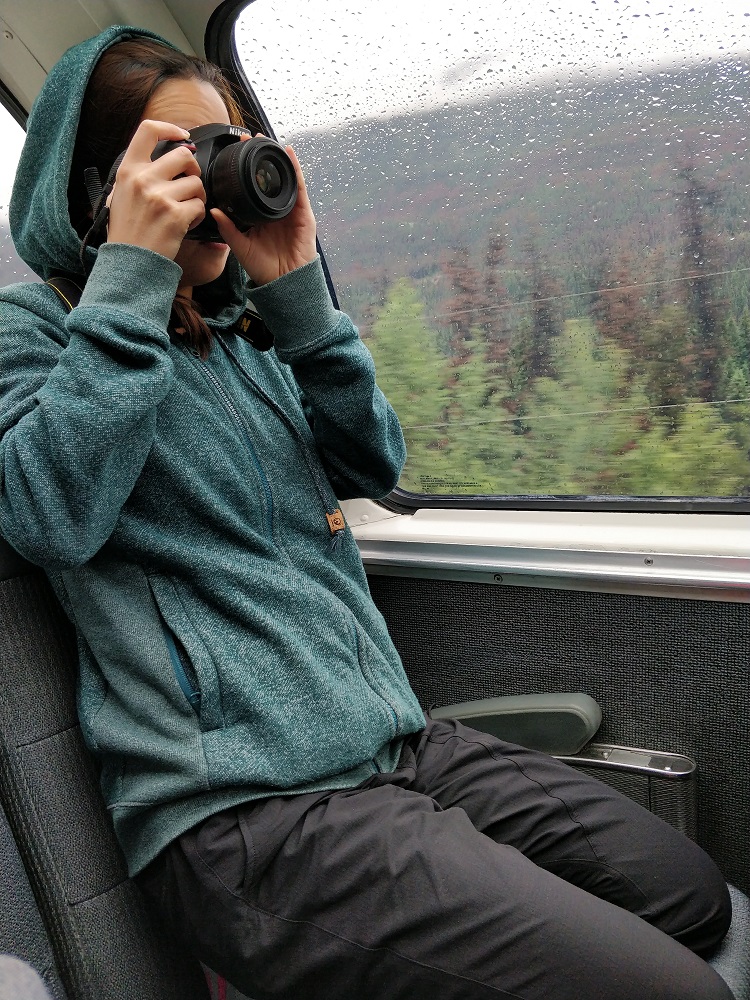 Yours truly trying to capture some decent shots
Train travel has its pros and cons, but overall, I am super happy to have had this experience. For Canada, I don't think I would travel by train for the sake of getting to a destination, unless I'm going relatively short distance, e.g., Toronto-Niagara Falls or Ottawa-Montreal. Trains here are slow and individual tickets are as expensive as (if not more expensive than) airplane tickets, even for economy class. However, traveling by train for the sake of a journey is worth it. Especially if like us, you have time to stop at (almost) every city and explore it a bit before moving on. The summer of 2019 was adventurous and unforgettable. It was so fun to get to know Canada a bit better, through experiencing and "feeling" different cities.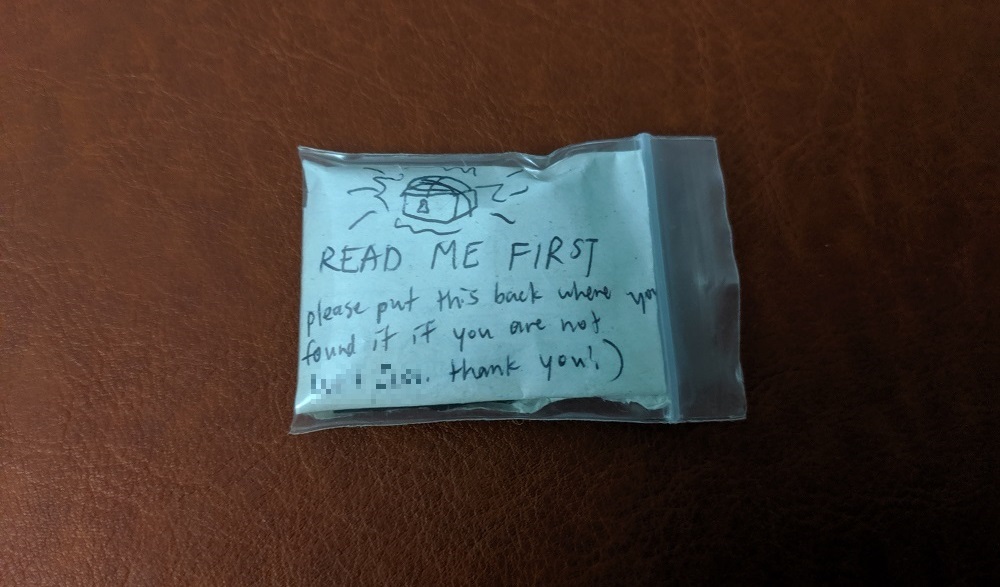 Our mementos bag for the treasure hunt
And just one more memory that I want to keep from this trip that I haven't mentioned in my previous posts. Two of our friends were making the same Vancouver-Halifax trip but on different days than us. Due to schedule differences, we couldn't meet in person, so instead we did a little treasure hunt for each other. We put a note with some mementos into a small bag, hid it somewhere near a train station and left instructions on how to find it. They did the same but in a different city. That was super fun and 100% would recommend. (Hello to our friends, if you are reading this!)
That's all folks! I promise – no train blogs in 2021 haha!